A panoramic view of Skyline Drive over Canon City, Colorado.
March 1, 2014 Update
March 1, 2014 marks the 45th anniversary of my Brother, Mike, being shot down in Laos. Over the last number of years, his crash site was investigated and excavated and remains were positively identified. June 9, 2012 a private funeral was held in Fayetteville, Arkansas, and October 19, 2012 a joint funeral was held at Arlington National Cemetery. A Flag Memorial Dedication Service and permanent display
of the Flag and Material Evidence at the 433rd Weapons Squadron was held on May 23, 2013.

I have been proud to own and operate this website and to honor Brother and Dad but am transferring the ownership to my Brother's Son, Kelly Meroney. Watch this space in the future.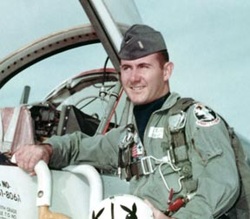 March 1, 1969, 1Lt. Virgil K. Meroney, III, Weapons Systems Officer, and Maj. Wendell R. Keller,
http://hm.dinofly.com/JCK/
Aircraft Commander, were shot down over Laos during the Vietnam War. They were flying a night bombing mission in an F-4D Phantom II aircraft, based out of Ubon RTAFB, Thailand. They were officially listed as Missing In Action, presumed dead. Numerous crash site investigations started in 1994 but the first crash site excavation did not occur until July, 2010. During the first excavation a portion of Maj. Keller's ID Card was recovered and identified which positively correlated the site to be that of F-4D 66-8814. Additional crash site excavations were conducted in April, July and November, 2011. During the July 2011 excavation, 1Lt. (Capt.) Meroney's military ID Card along with a religious Medallion belonging to Maj. (Col.) Keller were recovered. After the November 2011 excavation on-site forensic anthropologist and Team Leader recommended that the crash site be closed. November 26, 2011, the site was closed. Human remains recovered from all the excavations were analyzed. Remains of both Capt. Virgil K. Meroney and Col. Wendell R. Keller were positively identified.
Individual Funeral Services for Captain Virgil Kersh Meroney, III, were held on Saturday, June 9, 2012, at University Baptist Church with burial at Fairview Memorial Gardens following the service, Fayetteville, Arkansas.
---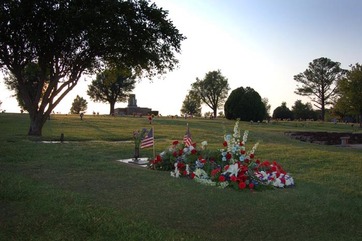 Sunset in the Ozarks - June 9, 2012
************************************
Arlington National Cemetery Burial

A "Group Burial" at Arlington National Cemetery
was honorably held, Friday, October 19, 2012
at 1:00 pm.

Captain Virgil K. Meroney, III, and
Colonel Wendell R. Keller
were buried together.

The United States Air Force Honor Guard provided
full military honors and the 175th Air National Guard Wing, Baltimore, Maryland, provided a Fly-over "Missing Man Formation" with 3 A-10 Thunderbolt "Warthog" Aircraft

"Group Burial": When 2 or more pilots/crewmembers (or other circumstances) go down together, there
are items, "material evidence", recovered during crash site investigations and excavations. Positive Identification or ownership cannot be determined as being one or any other pilot or crewmember's property or ownership. Being "Politically Correct", this kind of burial (& at Arlington) is called a
"Group Burial" - actually, it will be "co-mingled" with some actual human remains and material evidence such as watch parts, necklaces, sunglasses frames, coins, etc...
Nellis Air Force Base - Flag Ceremony


The American Flag that draped the coffin as it was moved from Hawaii to Arlington National Ceremony last October was offered and accepted by the 433rd Weapons Squadron at Nellis Air Force Base, Las Vegas, Nevada. After the Vietnam War, the 433rd Tactical Fighter Squadron in Thailand, which Brother Captain Virgil Jr. (Mike) and his Aircraft Commander Colonel Wendell Keller were assigned, was eventually assigned to Nellis AFB & became the Air Force top advanced weapons school, 433rd Weapons Squadron.

Lt Col John Kent, Commander, 433rd Weapons Squadron
Cordially invites you to attend a Memorial Dedication
honoring Col Wendell R. Keller and Capt Virgil K. Meroney III
on Thursday the 23rd of May 2013 at three fourty-five in the
afternoon at The 433rd WS, 4269 Tyndall Ave, Bldg. 282
Nellis Air Force Base, Nevada

1530: In Place Dress Code: Uniform Of the Day, Business Casual
1545: Ceremony

Reception to Follow at the 433rd WS Patio

The Flag Memorial Dedication Service and permanent display
of the Flag and Material Evidence at the 433rd Weapons Squadron was held at 1530 (3:30pm) on May 23, 2013.

---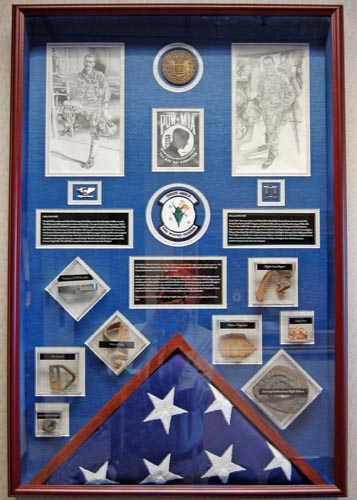 Thank you Nellis Air Force Base, et al...
Especially including Colonel Gaillard Peck (USAF Retired), Captain Jarrod Aranda (Both of the 433rd Weapons Squadron), Lt. Colonel John Kent and the entire 433rd Weapons Squadron, The Honors of The Daedalians, Christine & Robin, JD, Mike, Bill, Public Affairs, Air Force Inn, Ken Otto, Kelly Meroney, Mike Keller and so, so, many others..

Memorial Day, May 27, 2013
A simple Reminder:
All Gave Some - Some Gave All
Honor & care for our Veterans





A probable last visit to the Vietnam Wall, Saturday, October 20, 2012. Captain Virgil K. Meroney and
Colonel Wendell R. Keller on Panel 30 of the Vietnam Memorial Wall & dedicated November 13, 1982.
Check back soon for additional details.

Disclosure: Meroney.net is a professional review site that receives compensation
from the companies whose products we review. We test each product thoroughly and
give high marks to only the very best. Meroney.net is independently owned and the
opinions expressed here are our own. iPage, affordable Web Hosting, is the only commercial enterprize recognized and endoresed as being highly recommended on this web site.
Disclosure: This web site / Doug Meroney does not Tweet, Twitter, Myspace, Facebook or any other social networking. No Smart Phone or text messaging. Best contact for Doug Meroney is email.